What a weekend I've had and Canada winning the gold medal in men's Olympic hockey today was the perfect icing on the cake. As friends and blog readers will know, this past month I became a full member of the Professional Photographers of Canada. With encouragement from my wife and fellow photographers, I decided to take a chance and enter images into this year's provincial print salon competition. I wasn't sure what to expect when I entered the competition but I thought it would be a great learning opportunity even if all of my prints were rejected. They say we learn from our mistakes and I was fully prepared to learn a lot after seeing the quality of images that have been accepted in past years.
The way print salon works is that each member is allowed to enter up to four images in a variety of categories such as wedding, portrait, editorial, etc. This year, there were approximately 260 images entered at the provincial level. I entered two images in the editorial category and two images in the wedding category. Images are judged in random order by a panel of 5 judges and awarded a rating of not accepted, accepted, merit, and excellence. Images with a rating of of accepted or higher earn service points which are used towards various designations such as Master of Photographic Arts (MPA) and Craftsman of Photographic Arts (CPA). Photographers with these designations next to their names are considered experts in the field of photography and have contributed greatly to the photography society.
Watching your image get judged by a panel of your peers is a nerve wracking experience with more emotional ups and downs than a gold medal Olympic hockey game. I spoke with several photographers who told me not to get too discouraged if none of my prints were accepted on my first attempt as the judging can brutal and the competition quite fierce.
As images came up on the screen, I started to think about the images I had submitted and self-doubt began to creep in. This is where the roller coaster of emotions begins to kick in. There were some awesome images in the show from photographers who's work I've admired for years and who I look up to. I found myself starting to think that none of my images would stack up but I was prepared to accept that and hopefully get some constructive criticism at the very least. Often, I am my own worst critic when it comes to my work but I guess that's just how I've always been.
To make a long story short, I was pleasantly surprised when three out of the four images I entered were accepted. However the surprises didn't end there as I learned that one of my images had received a grade of Excellence. Being my first PPOC print competition, I didn't fully realize the magnitude of the score until fellow photographers started to congratulate me and tell me what an amazing achievement it was to receive an excellent rating – particularly considering this was my first time entering. I was shocked but also excited at the same time and all that self-doubt and self-criticism started to melt away.
But the roller coaster ride wasn't to end there my friends. First, by receiving a score of excellence, my image will automatically go on to compete on a national level with photographers from across Canada. I also discovered that my image was in the running for best Editorial photograph of the show. However once I found out who I was up against, good old self-doubt made a triumphant return and I figured at least it was an honor to be nominated but I was certain my time on the roller coaster was at an end. But just when I thought it was over, the coaster fired back up again and headed into a series of 360 loops. Not only did my image win best Editorial photo but it was also selected to receive the Pat Eisenbarth Award for Best in Show! Crazy!
I am humbled and honored to be recognized by such a distinguished jury of my peers. It was such a surreal moment to have photographers who I admire and look up to, come over to our table to introduce themselves to me. I'm usually pretty chatty but on this night I was at a loss for words.
I try to avoid getting to personal or too sappy on here but I want to take a moment to give a special thanks to my wife Sarah who's support over the past few years has allowed me to pursue my photography dreams. Without her love and encouragement, I would not be where I am today. I also want to thank all of my friends and fellow photographers who have helped me along the way, encouraged me, and told self-doubt to take a hike. Your support means the world to me.
Okay, enough of my blabbering on (this may go in the books as my longest blog post yet), Here is the image I entered which won Best in Show. The image is called 'The Hunger' and was for a project that I did for Edmonton's Foodbank back in October of last year. For those who missed the post, you can read all about it here.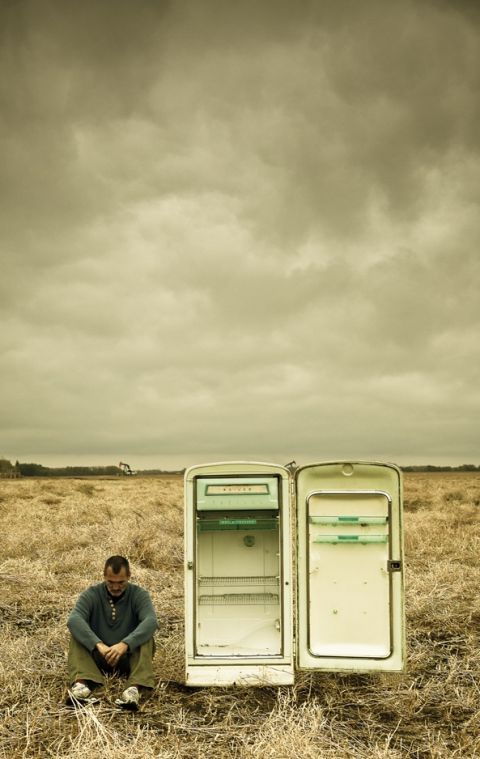 Below is a quick shot of the awards that I was presented with on Saturday night. Thanks again for all your support and encouragement and congratulations to my fellow photographers who took home trophies.