This past Saturday was my 39th birthday. To celebrate, my beautiful wife Sarah threw me a surprise party with a Hell's Kitchen theme. For those who haven't met my wife, she's gaining a bit of a reputation among our group of friends for organizing amazing themed parties.  I love beer so for my 35th birthday, Sarah organized a beer tasting party complete with voting ballots and matching appetizers. For my 37th, friends enjoyed a Rock Band themed party complete with groupie t-shirts that Sarah made for each guest.
This year, the theme was Hell's Kitchen. Sarah gave everyone their own chef's hat and personalized apron to wear. Each person who attended, brought along four random ingredients and the goal was to create a meal using every single ingredient. Here are the ingredients we ended up with: fresh tomatoes, basil, frozen shrimps, onion, coconut milk, rib eye steaks, 24 buns, a can of re-fried beans, oatmeal cookies, bamboo shoots, crab meat, herb & garlic cream cheese, brocollini, salsa, balsamic vinegar, olive oil, and orzo. We were also allowed to use any spices or condiments that were available in our house. Here is what we came up with:
Re-fried beans on buns with basil leaves
Bruschetta on toasted buns
Steak Neptune with oatmeal cookie topping (it tasted awesome)
Thai green curry with shrimps and bamboo shoots served over orzo
Brocollini served with a salsa cream-cheese sauce
Considering that this meal could have easily been a train wreck, it actually wound up being an amazing meal. The cream cheese salsa sauce was a big hit and will definitely be something to add to the family recipe book. If you are having a party, you should consider throwing a Hell's Kitchen themed party and see what you come up with. Here are a few photos of the evening's festivities.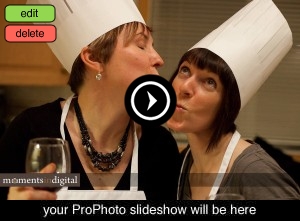 EAVB_AMOAHMYIUR