This past Saturday, over 31,000 photographers in 1100 cities took part in Scott Kelby's 3rd Annual Worldwide Photo Walk. In Edmonton, three walks were held and I was fortunate to be chosen to lead one of the walks. The weather gods delivered one of the nicest days we've had all summer and we had a fabulous turnout with close to 45 people joining me in front of the Timms Center for the Arts on the beautiful campus of the University of Alberta. The group spent close to two hours exploring the UofA and photographing whatever inspired them while socializing, chatting about photography, and getting to meet new people.
Thanks to everyone who came out and I hope you all enjoyed your day. A big thanks to Edmonton photography legend Bill Hill for taking a great group photograph at the beginning of our walk.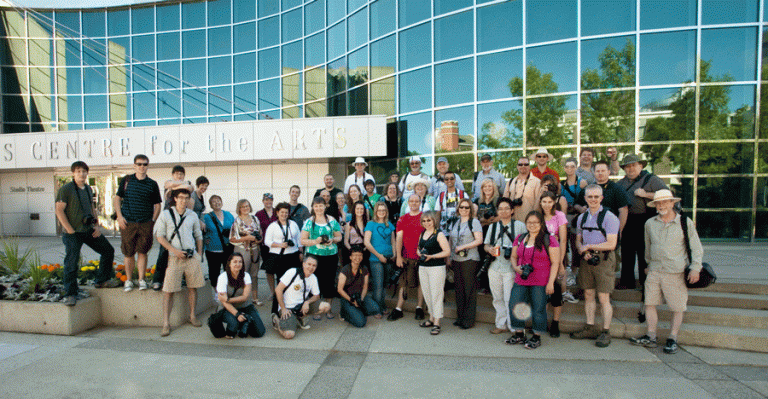 Also a huge shout-out to the team from Fotojournal who donated a 1-year Pro blog and gave away some sweet buttons and discount coupons to our walkers.
If you would like to see photographs from any of the three walks there were held in Edmonton, be sure to visit the official Flickr group at  http://www.flickr.com/groups/edmonton-photowalk3-2010/. Scott Kelby has also created a Flickr group for everyone who participated in this year's walk so you can see photographs from around the world. Just head on over to http://www.flickr.com/groups/wwpw3
Just a reminder to those who participated in our walk, if you want to enter your favourite photograph into the contest for a chance to win one of Scott's books, you have until August 1st to upload your photo. Visit the Worldwide Photo Walk page, sign in with the user name you registered with, and upload your photograph.
Even though I was leading the walk, I did manage to find some time for photography. I decided that I was going to challenge myself by only bringing one lens with me and trying to shoot with just that lens. I chose to go with my brand new 100mm f/2.8 Macro lens which I recently added to the lens collection. I've only had it for a few weeks and have used it primarily to photograph wedding details such as rings, table decorations, wedding dress detail, etc. This was a chance to experiment with it more and play with the lovely shallow depth of field that you can get with this lens. I had a great time shooting with it and trying to look for the small details on a campus that is filled with many large scale buildings and giant trees. Here are a few quick photographs that tell the story of what I saw through my lens on Worldwide Photo Walk day.