On May 22nd we held our 2nd Photography Tweetup after our previous attempt was canceled due to snow. How can you not love good old Alberta weather? Our first Tweetup was a general meeting held at a local restaurant to gauge the level of interest and see what direction the group would like to take. You can read my recap of our first meetup here. At that meeting it was decided that people really just wanted to get together and go out as a group to shoot, share knowledge, practice their photography and meet other like minded people who share a common interest in social networking via Twitter and photography. The idea of a Photowalk was put forth and everyone seemed interested in the idea.
For those who've never participated in a Photowalk before, it is esentially an event where everyone brings their camera and you go out photographing as a group. It can be formal or informal but it generally helps if there is some purpose for the walk to help provide some creative direction. Photographers of all skill levels are invited to participate and we encourage those with more experience to offer assistance and advice to those who may want a little guidance or direction.
We decided to have our first Photowalk at Ezio Farrone Park which is located on the northwest side of the high level bridge. The assignment for the evening was lines. We met beforehand and I briefly introduced the importance of lines in composition and pointed out a few examples of different types of lines. From there we ventured forth and began photographing lines all around the park. Below is a collage of some of the photos I took that evening. Can you spot the lines?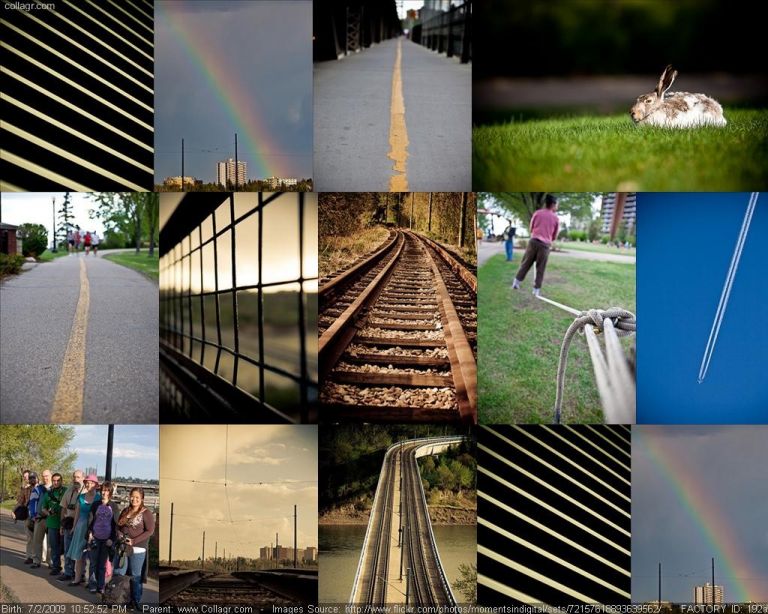 By the end of the night I think everyone was seeing lines just about everywhere they looked. You can check out everyone else's photos in our Flickr group. Thanks to everyone who came out.
Our next Photography Tweetup will be held on Friday, July 3rd, 2009. We will be meeting in front of Chancery Hall in Winston Churchill Square at 6:30 to photograph the Edmonton Street Performers Festival. The theme this time around will be motion. Be sure to visit the Wiki that's been setup to register by leaving your name and your Twitter handle.