Once again this year we will be leading a walk for Scott Kelby's Worldwide Photo Walk in Edmonton on October 13th. This will be the fifth annual Worldwide Photo Walk and is expected to attract thousands of photographers in hundreds of cities. For those who are unfamiliar with a photo walk, it is basically a social gathering of photographers with a common goal of getting together to photograph a particular subject or location. You can learn more about it by visiting the Worldwide Photowalk website and watching the introductory video.
Here is a photograph from last year's group that we led on a rainy walk through Edmonton's beautiful River Valley: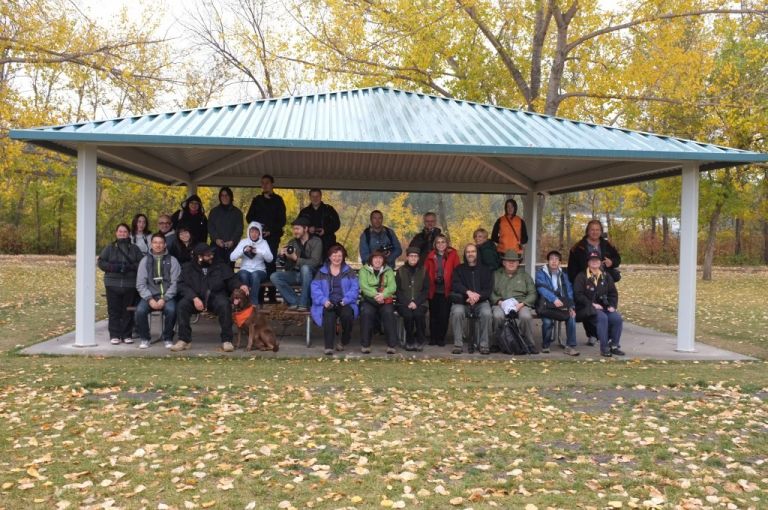 While primarily for fun, there will also be prizes awarded to the best photograph from each city and then all of the winning entries from each city will be judged by Scott Kelby himself and winners will be eligible to win great prizes including:
Grand Prize Winner will receive:
1 copy of Adobe Creative Suite CS6 (Mac or PC)
1 copy of Adobe Lightroom 4
1 Full-Conference Pass to Photoshop World (www.photoshopworld.com)
1 2-Year Kelby Training Subscription
1 2-Year NAPP Subscription
1 Set of the Kelby Training Book Library
1 Epson R3000 Printer
1 B&H – Gift Card
1 Thinktank Camera Bag
1 Wacom – Intuos 5 Touch (Medium)
1 Copy of the Nik – Full plug-in suite
1 OnOne – Perfect Photo Suite
Finalists – Top 10
The top 10 finalists will receive the following:
1 copy of Adobe Lightroom 4
1 Year Kelby Training Subscription
1 Year NAPP Subscription
1 B&H – Gift Card
1 copy of Nik – Color Efex Pro 4
1 copy of OnOne – Perfect Effects 3
1 Wacom Bamboo Tablet
People's Choice Award
The winner of the People's choice award will win the following:
1 copy of Adobe Photoshop CS6
1-Year Kelby Training Subscription
1-Year NAPP Subscription
City Walk Winners
The walk winner from each city will win a copy of Scott Kelby's Lightroom 4 Book for Digital Photographers. Winners will receive a code from Peachpit that will allow them to download 3 forms of the eBook (PDF, ePub, Mobi). You can now use it on whatever device you choose!
This year's walk will take place on Saturday, October 13th from 3:00 – 5:00 followed by a meetup at Original Joe's (12520 102 Avenue)  where we will share our photos, meet new photography friends, and enjoy some food & beverage. The plan for this year's walk in Edmonton is to visit the grounds of the Royal Alberta Museum. We will meet in the parking lot of the museum and explore the grounds and surrounding areas. Photographers of all skill levels are encouraged to participate. The first 50 people who register to attend will be eligible to participate in the prize drawings. Spaces are limited so be sure to sign up fast! You can learn more about the walk and sign up by visiting the Edmonton site for the Worldwide Photo Walk.