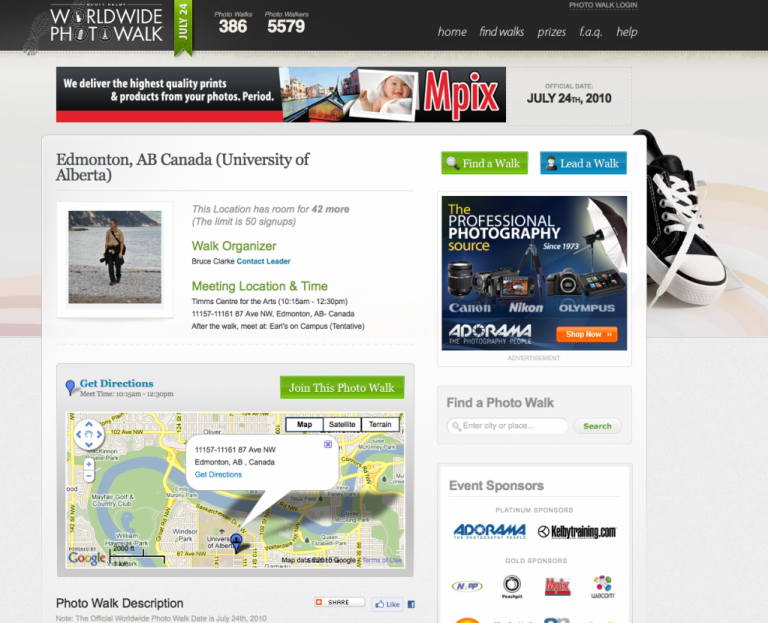 Yesterday I received the exciting news that I've been selected to lead Scott Kelby's Worldwide Photo Walk in Edmonton. This is the third annual Photo Walk and is expected to attract thousands of photographers in hundreds of cities. For those who are unfamiliar with a photo walk, it is basically a social gathering of photographers with a common goal of getting together to photograph a particular subject or location. While primarily for fun, there will also be prizes awarded to the best photograph from each city and then all of the winning entries from each city will be judged by Scott Kelby himself and winners will be eligible to win great prizes including:
Grand Prize:
$1000 Adorama Gift Certificate and 1-Year Subscription to Kelby Training Online
People's Choice:
$750 Adorama Gift Certificate and 1-Year Subscription to Kelby Training Online
10 Honorable Mentions:
$250 Adorama Gift Certificates
This year's walk will take place on Saturday, July 24th from 10:30 – 12:30 followed by a meetup at nearby restaurant to share photos, meet new photography friends, and enjoy some food & beverage. The plan for this year's walk in Edmonton is to visit the University of Alberta campus which offers plenty of great opportunities to photograph a wide variety of architecture combined with beautiful green spaces and a few funky urban areas. Photographers of all skill levels are encouraged to participate. The first 50 people who register to attend will be eligible to participate in the prize drawings. Spaces are limited so be sure to sign up fast! You can learn more about the walk and sign up by visiting the Edmonton site for the Worldwide Photo Walk or by clicking on the graphic below.