Amanda & Sumantra's wedding is coming up in just a few short weeks and last weekend we met up with them for their engagement session. We first met Amanda & Sumantra last year when we photographed Kelly and Brad's wedding at the Royal Alberta Museum in Edmonton. Since they were both living in Calgary when they started their wedding planning, we conducted our first few meetings over Skype. Since then they have relocated to Edmonton so we decided to head to a local park near their home to photograph them with their two dogs before heading downtown for an urban adventure. Sarah and I both love dogs and by coincidence, 3 of our couples this year also have dachshunds or dachshund mixes like we do so we were so happy when they told us they wanted to include their puppies in the shoot. The only problem when there are dogs involved is that both Sarah and I end up wanting to play with the dogs instead of photographing them.
Here are their two dogs – Aloo and Gobi posing for the camera. Aren't they sooo stinking cute? They are dachshunds mixed with fox terrier. Anytime an engagement session starts out with this much cuteness you know it's going to be a fun session.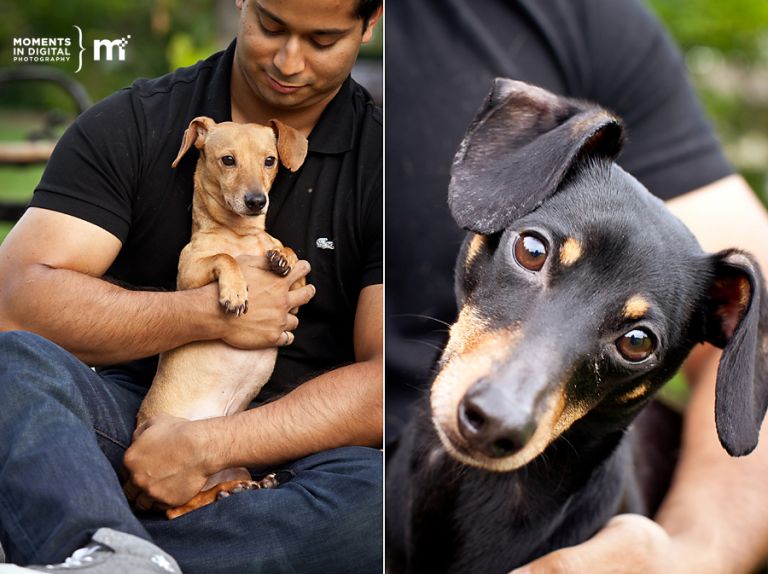 Sumantra wanted to get in close for a smooch with Amanda but the dogs also wanted to get in on the action.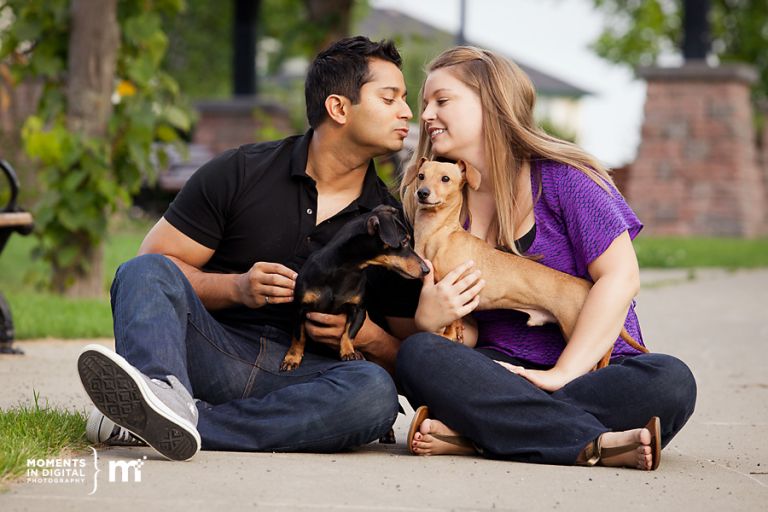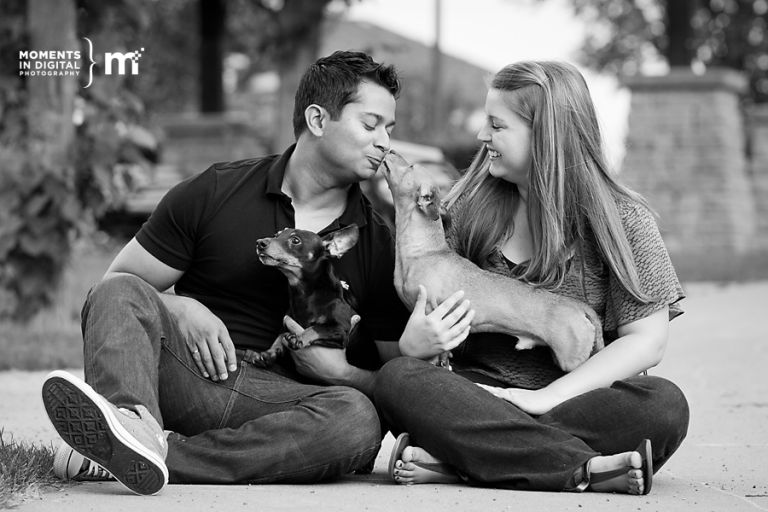 After spending some time in the park with dogs and battling mosquitoes, we dropped the dogs off at their house and headed downtown for an urban engagement session. We started off at the Bank Ultra Lounge which is where their love story began. We had some amazing light and took full advantage of it. Amanda and Sumantra were naturals in front of the camera and didn't require much direction to come up with some fantastic poses.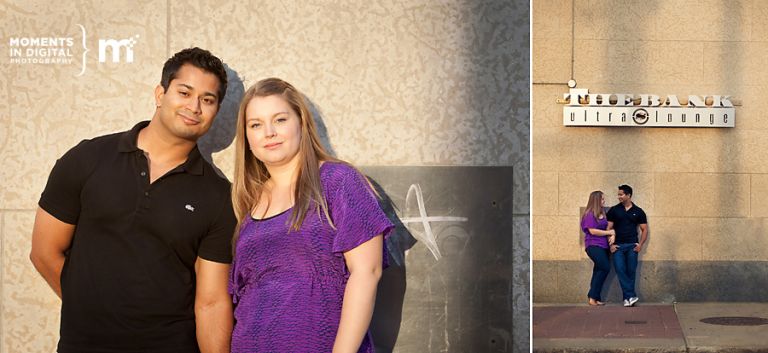 Loved the splash of colors on this wall created by all of the posters.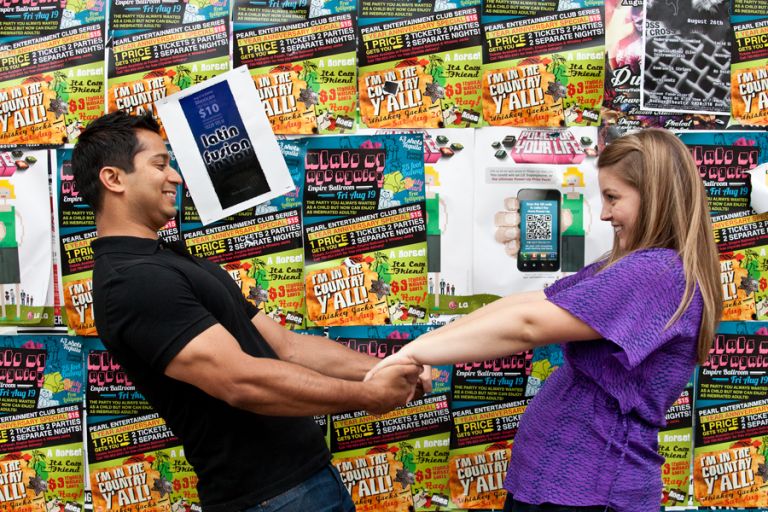 We asked them to break out their best 'Blue Steel' looks. This is what they gave us.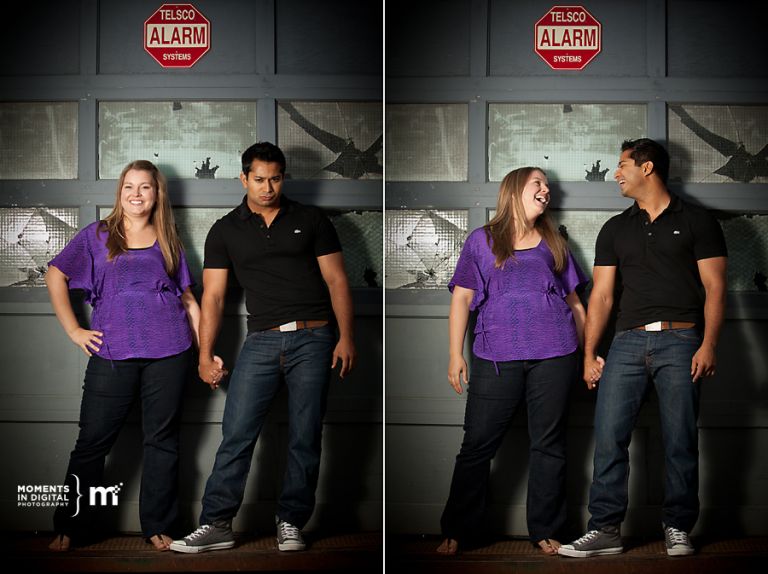 A few more of our favourites from our fun evening together.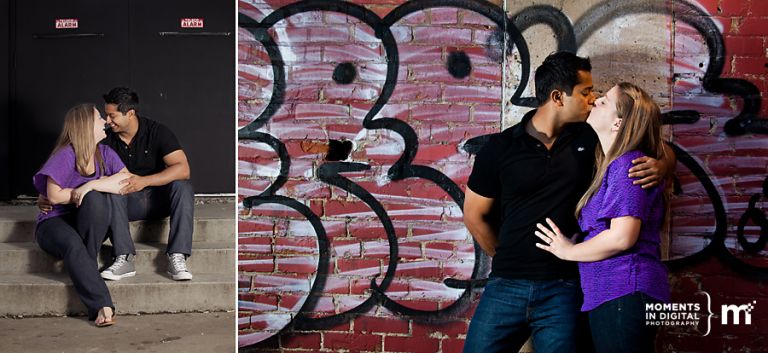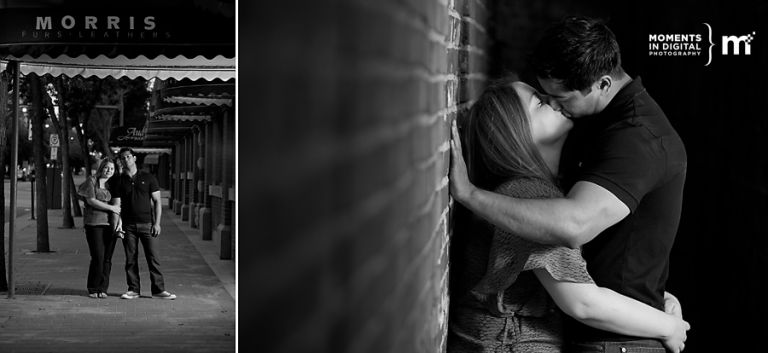 We had such a fun night and we can't wait for Amanda + Sumantra's two-day wedding in just a few short weeks.