We love weddings that are personal and unique and we love couples who incorporate elements into their wedding that represent themselves and their love for each other. Enter Sharon & Mack. Anyone who lives in Edmonton probably knows Sharon & Mack and our blog readers were introduced to them a few months ago when we blogged their engagement session. For those who don't Sharon & Mack are some of the most down-to-earth people we've ever met and their passion for the city of Edmonton and their community is unparalleled. They love downtown and shopping local and both of them are foodies. They organize incredible events including the popular What the Truck events. We regularly follow Sharon's food blog to keep up-to-date with Edmonton's vibrant food scene and Mack's blog is a great read to keep up with almost everything going on in the city.
We were so excited to photograph their wedding which featured so many great personal touches that were uniquely Sharon & Mack. Our day started out with a quick first look at Beaver Hills Park before heading up to Sharon & Mack's condo for a traditional Chinese tea ceremony with their parents. Sharon & Mack live on 104th Street and spend a lot of time at the market so after the ceremony they wanted some fun casual shots of them walking through the market.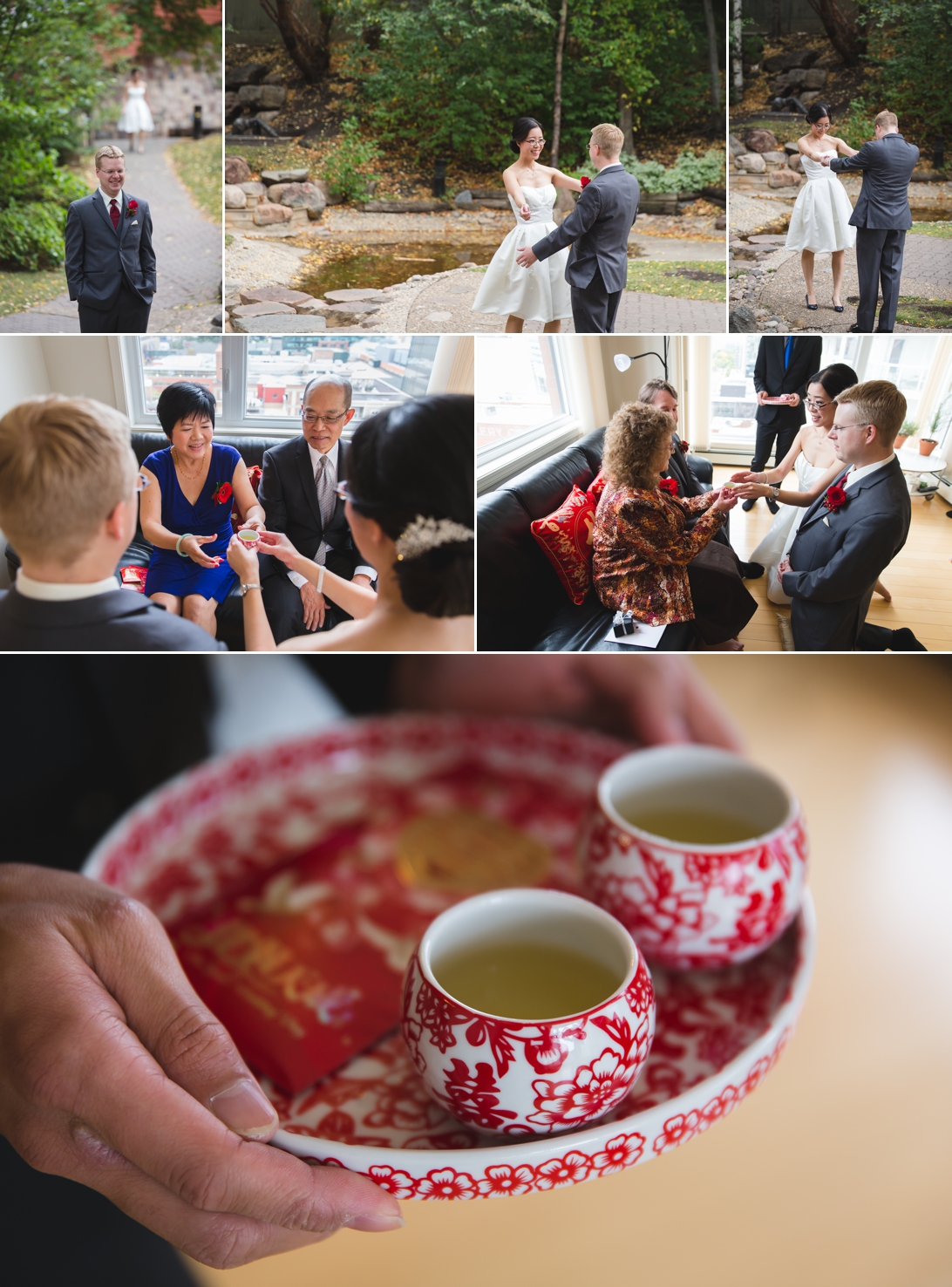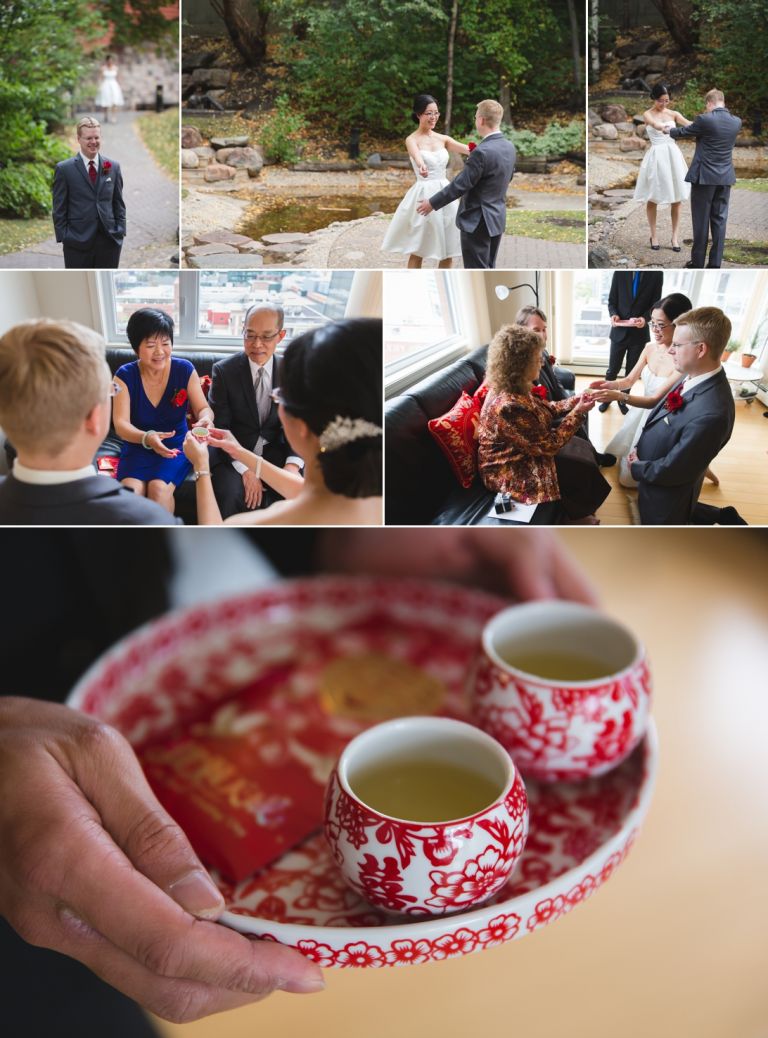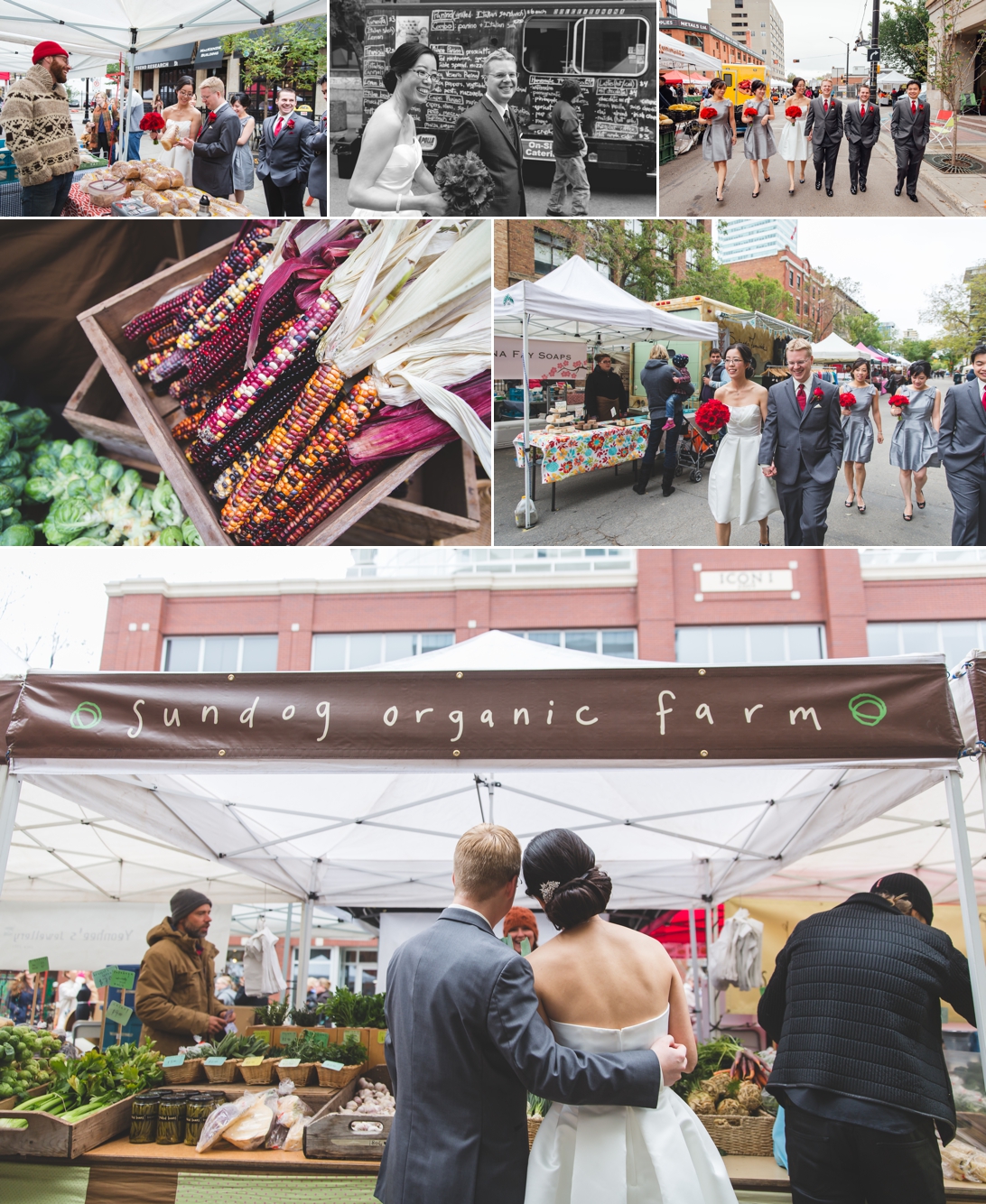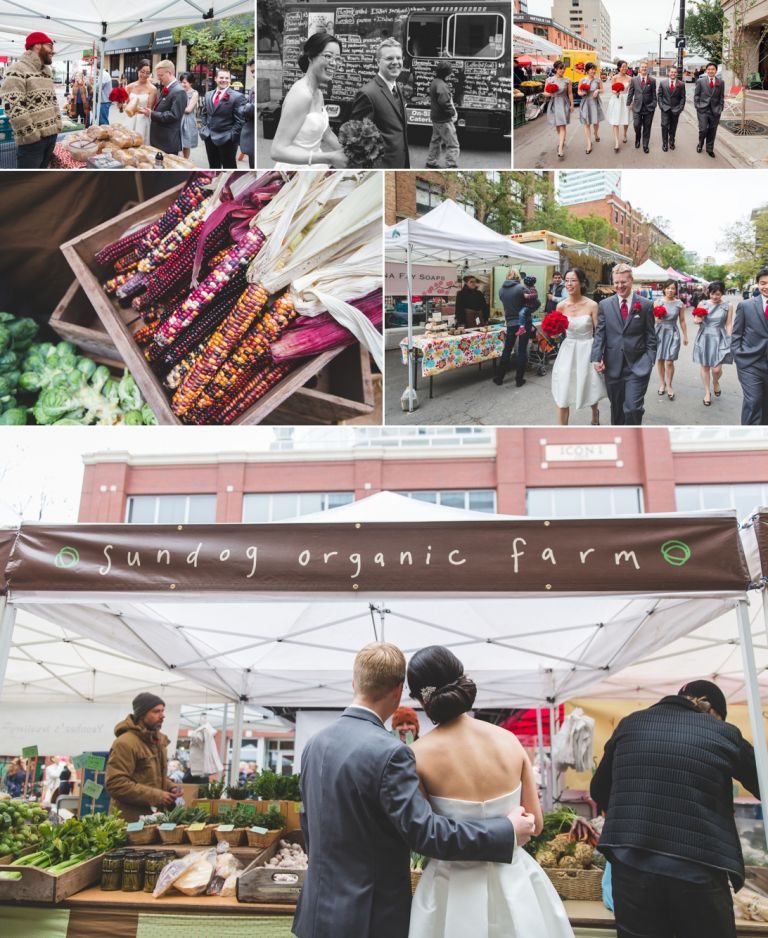 Afterwards we headed over to McKay Avenue School for their wedding ceremony and family photographs. It was a small intimate ceremony surrounded by their family and close friends. After the ceremony, guests were invited to mingle and enjoy a delicious waffle from Eva Sweet's Waffle Truck which was parked outside waiting to feed their guests while we did family photos.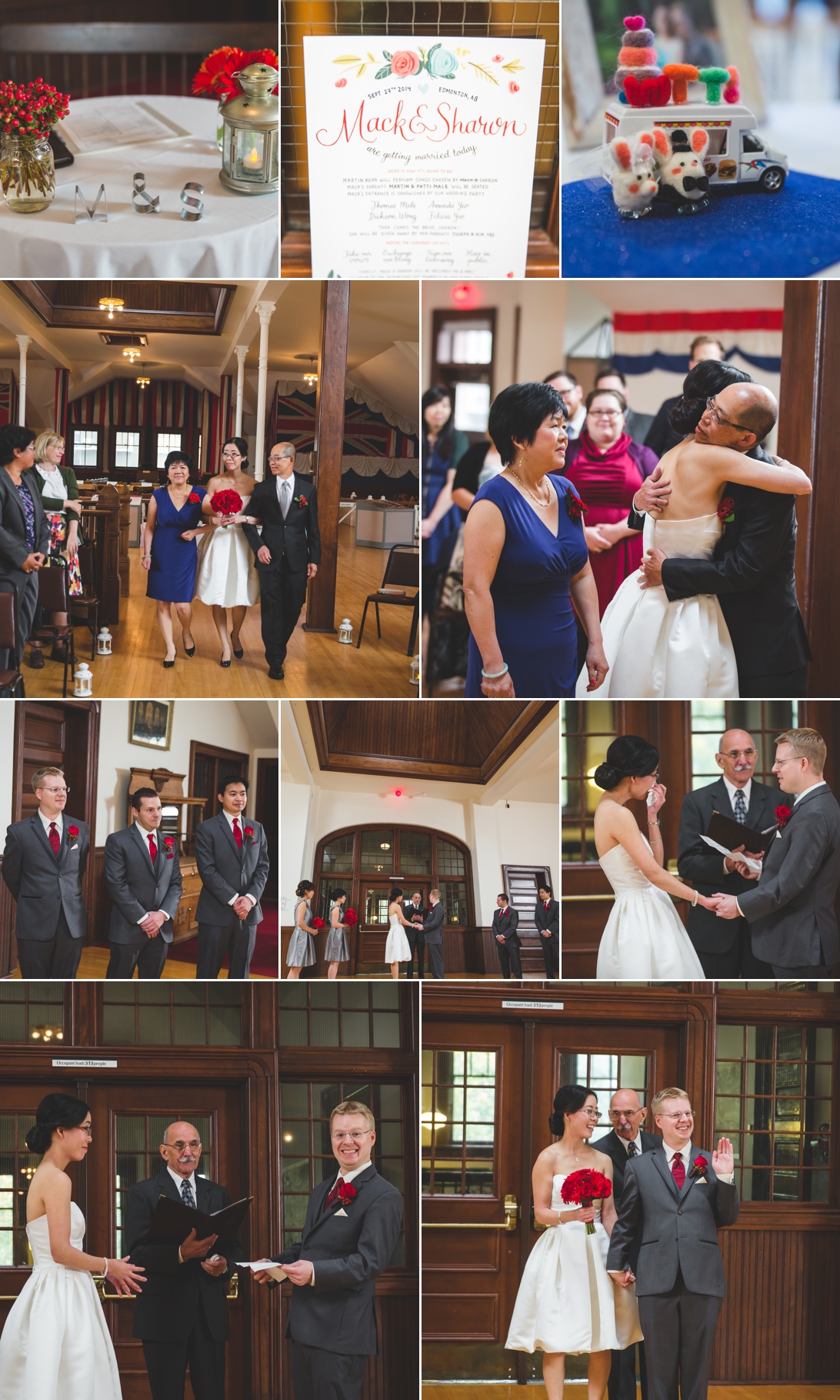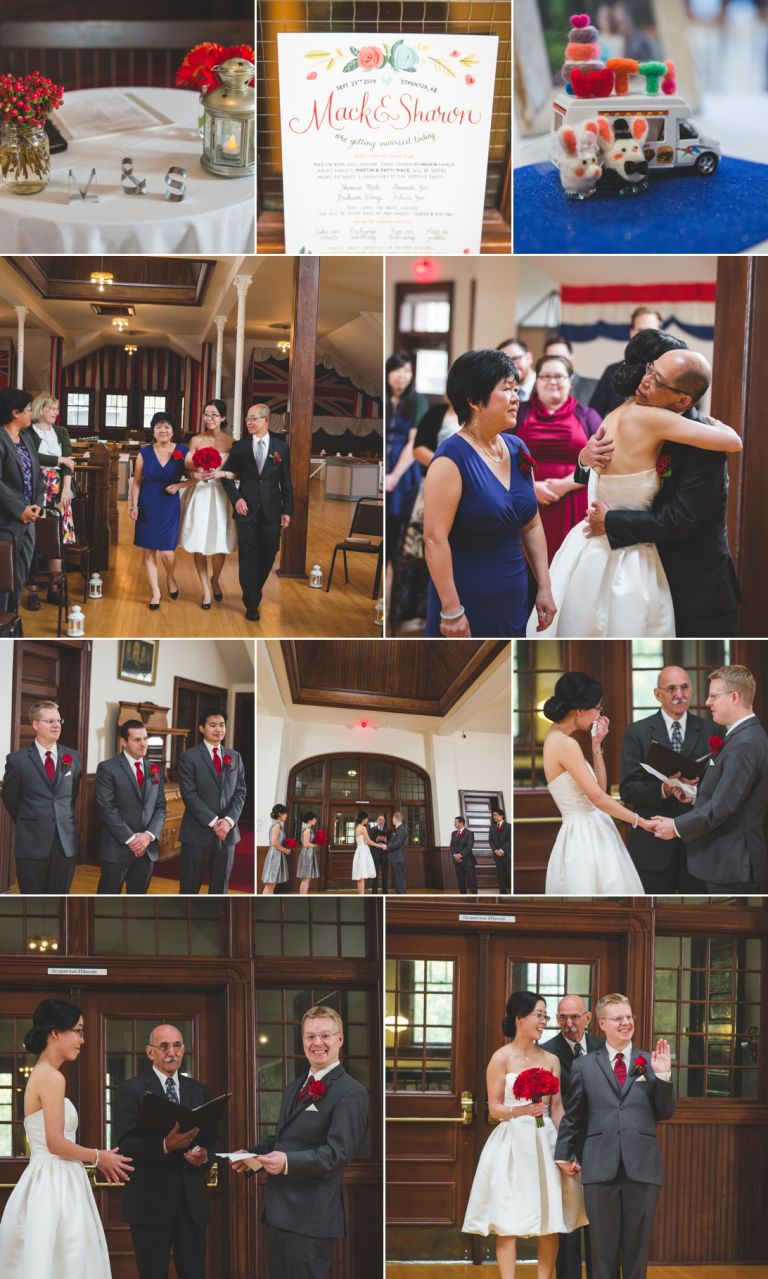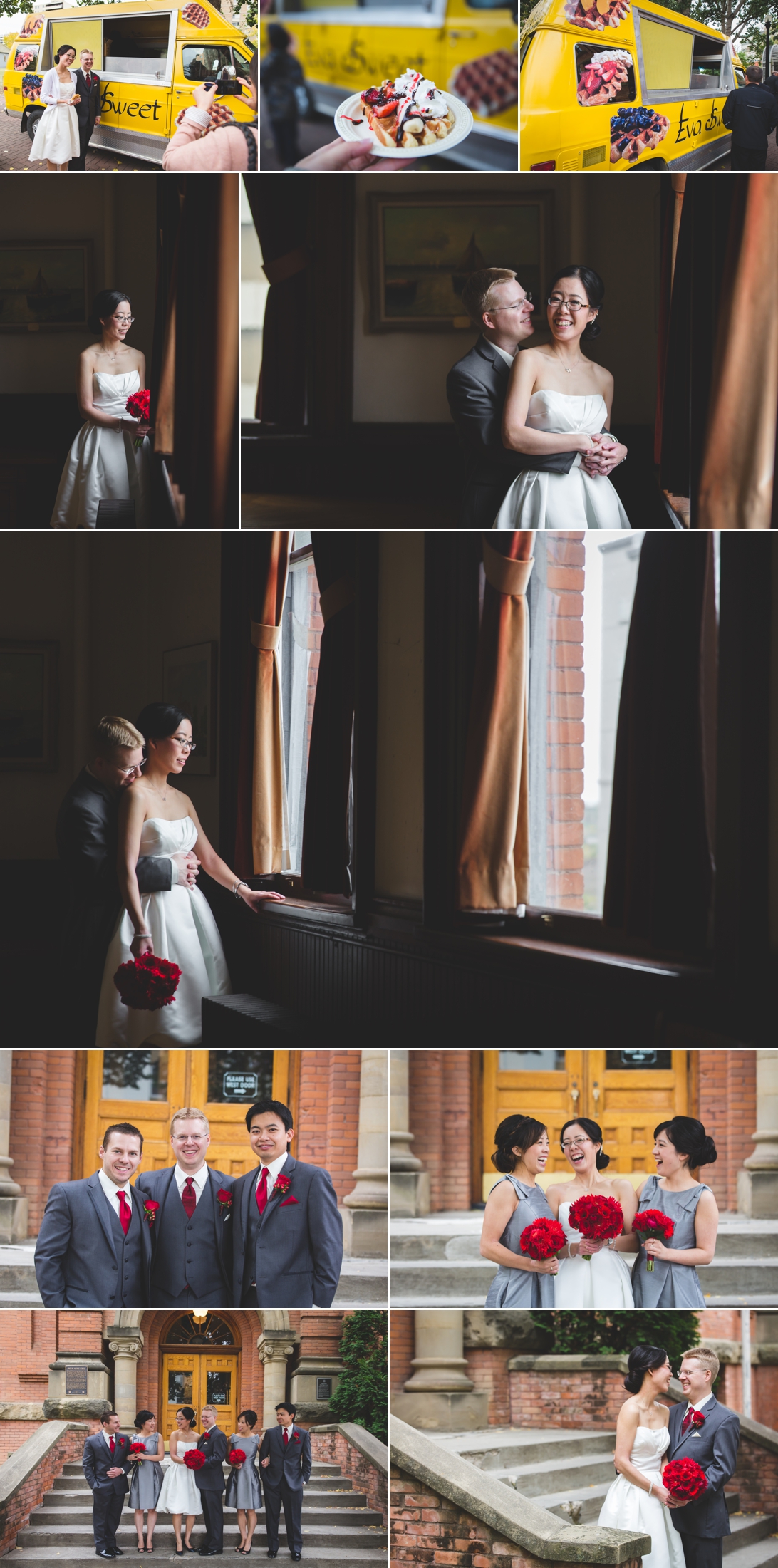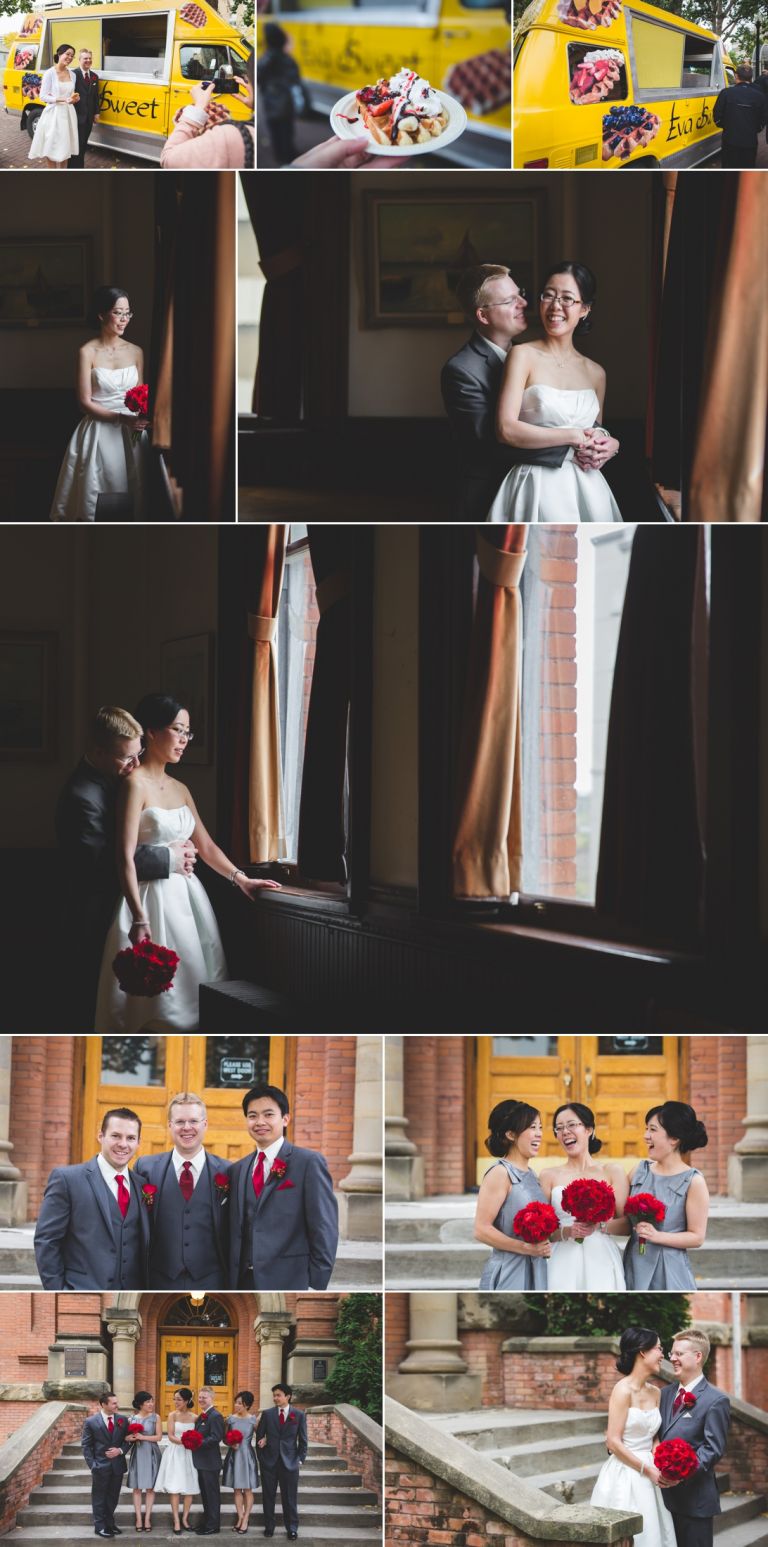 Thank goodness photography is physically demanding or I may have gained 30 lbs photographing this wedding as our next stop was one of Sharon & Mack's favourite spots to grab a quick bit – Route 99 diner. Of course we couldn't make a pit step there without enjoying a tasty plate of poutine. It also made a fun location for some candid photos while they enjoyed a quick bite with their wedding party.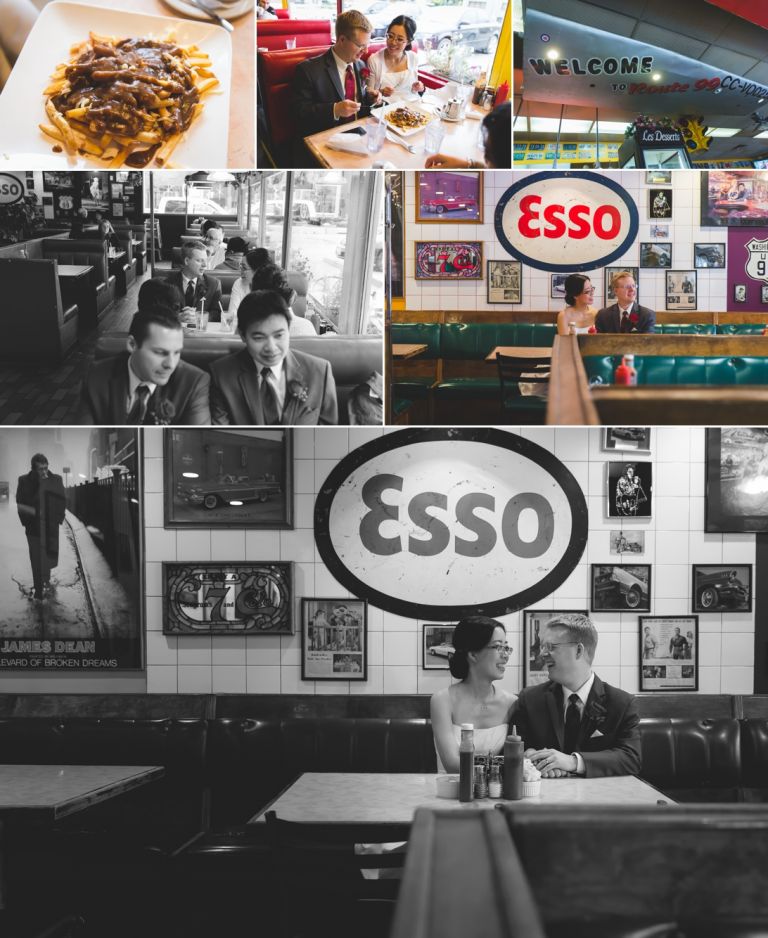 After grabbing some lunch we headed to nearby Mill Creek Ravine for photographs with the bridal party and with Sharon & Mack. It was a bit chilly but the fall colours in the ravine made for a beautiful setting.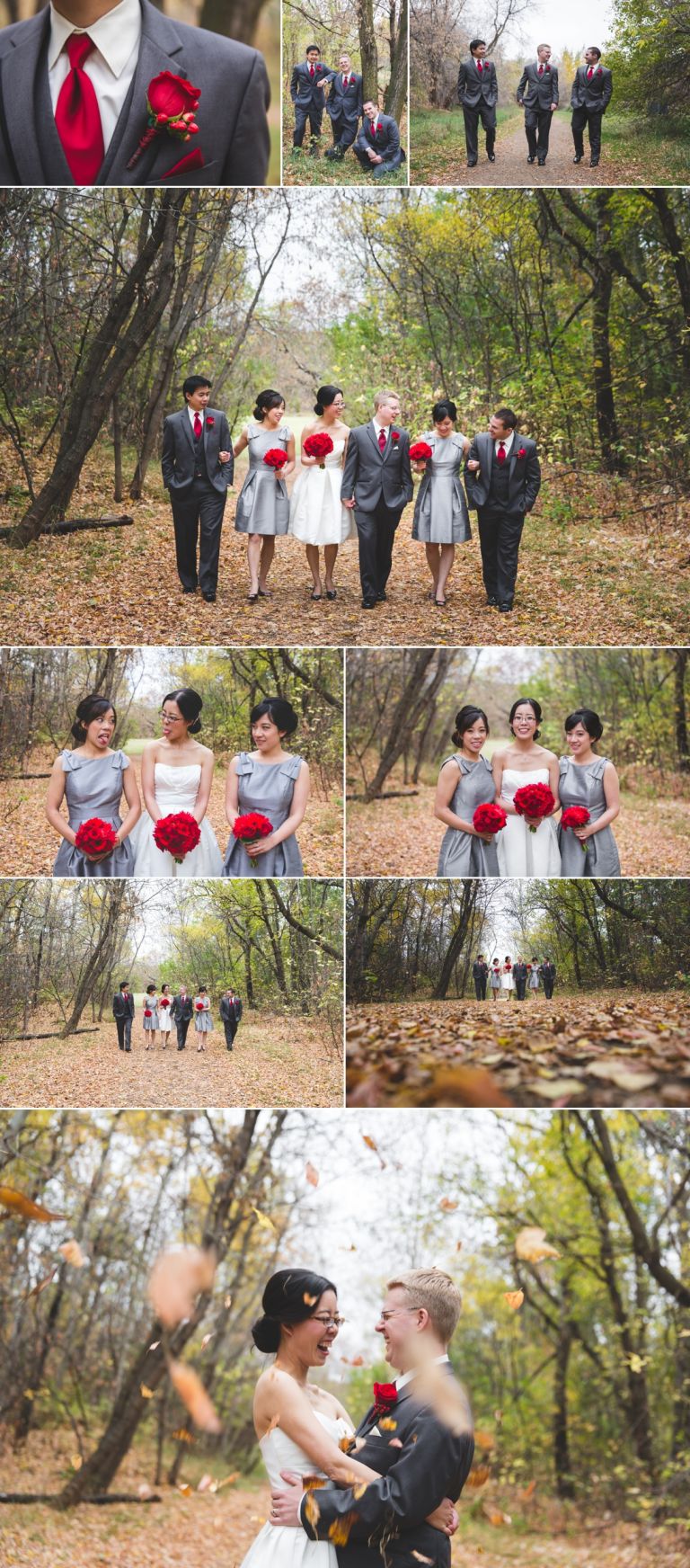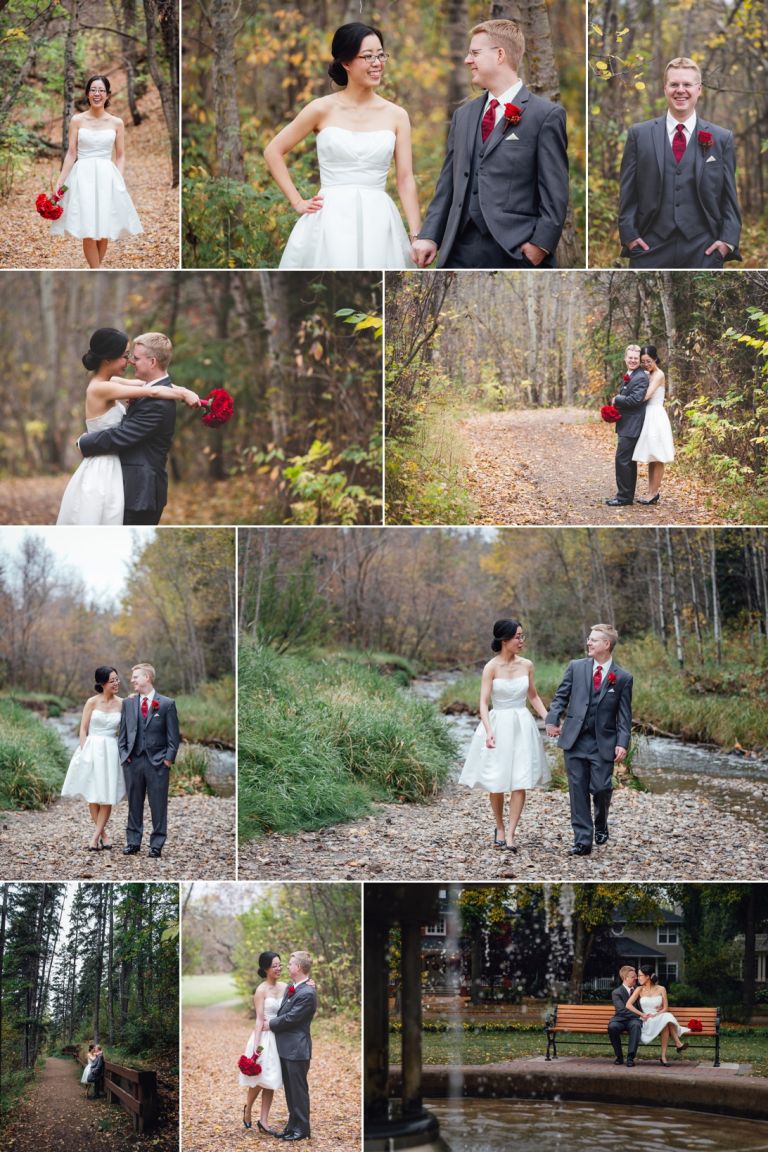 After we were done photographing bridal formals in Mill Creek Ravine we made a quick stop at Alexander Circle before heading to Rge Rd for their reception. If you haven't visited Rge Rd before you'll want to make a reservation ASAP. Blair and his team over there create some amazing food and it made for a great intimate location for Sharon & Mack's reception. Their reception was probably one of the top 2 meals I've ever had and the Pana Cotta dessert was amazing.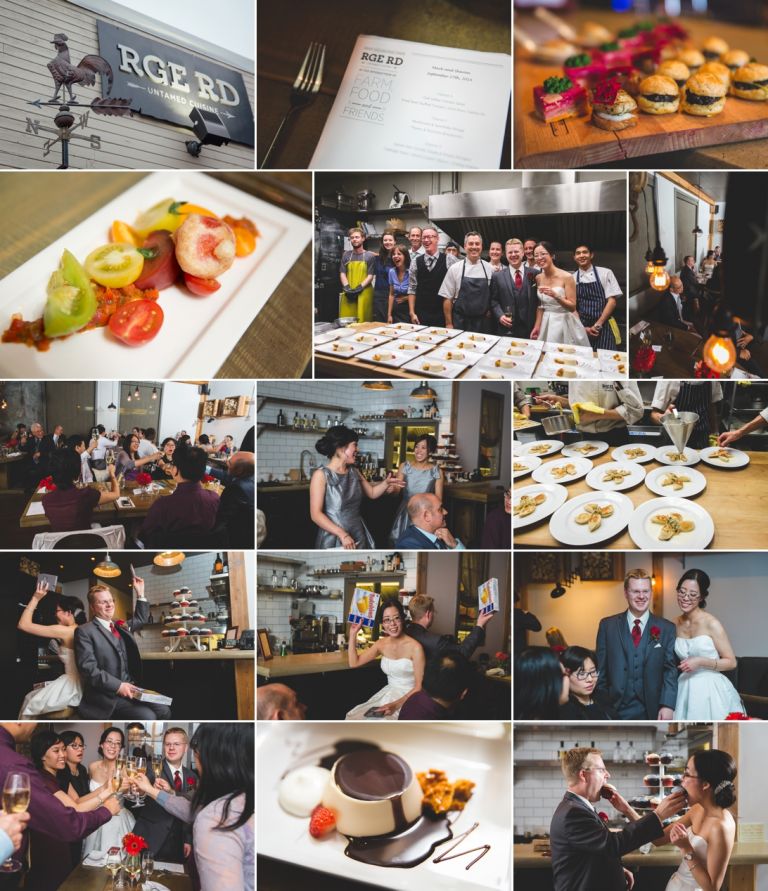 Once again I'd like to thank Sharon & Mack for choosing us to photograph their wedding. Special thanks to Haley Erdegard for 2nd shooting this one with me while Sarah was recovering from a medical issue.