You may recall meeting Sherena + Clay a few months ago when we blogged their engagement session that we photographed in Edmonton's River Valley. You might also remember meeting their miniature dachshund named Hersey who joined us for that session. Well, this past Saturday they all made their return for Act II as they celebrated their wedding at the Red Tail Landing Golf course near the Edmonton International Airport. It was a beautiful day with near perfect weather and a beautiful bridal party.
The day started at Sherena & Clay's house where we did a first look but it was Hershey stealing the show in the cutest tuxedo we've ever seen. He even had a cute little top hat. Unfortunately he couldn't make it to the wedding because he wasn't feeling well but at least he was able to participate in some photos while Sherena was finishing getting ready.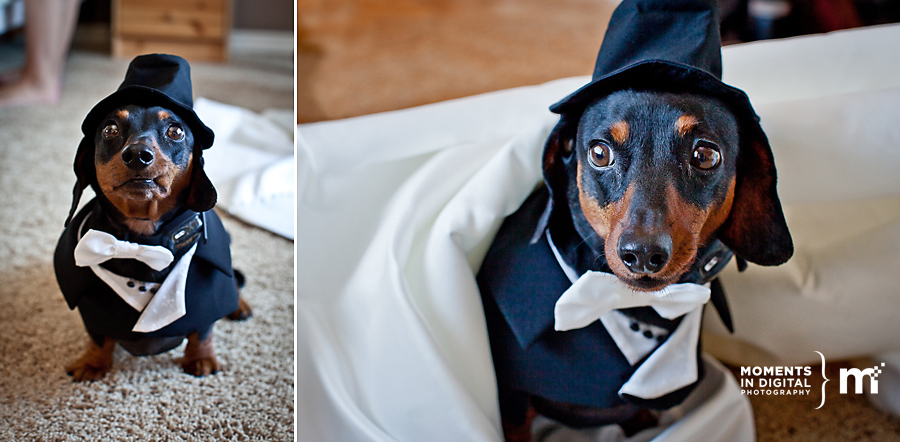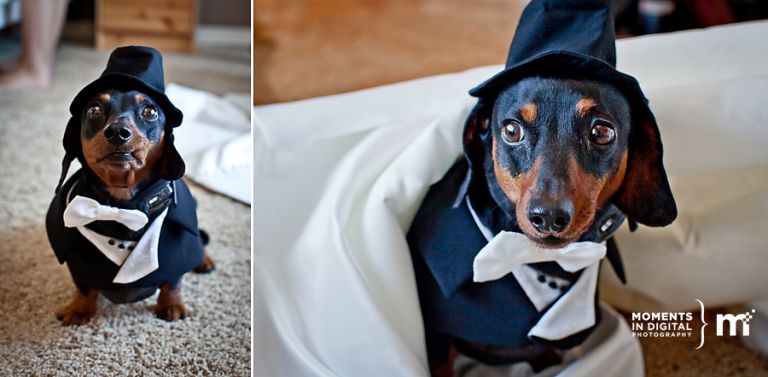 After seeing each other for the first time in their wedding attire for their first look, we headed to a nearby farm for photographs with the family and wedding party. The wedding party looked great in purple and black and we tried to keep them in the shade as much as possible as Edmonton is experiencing warmer than usual temperatures for September.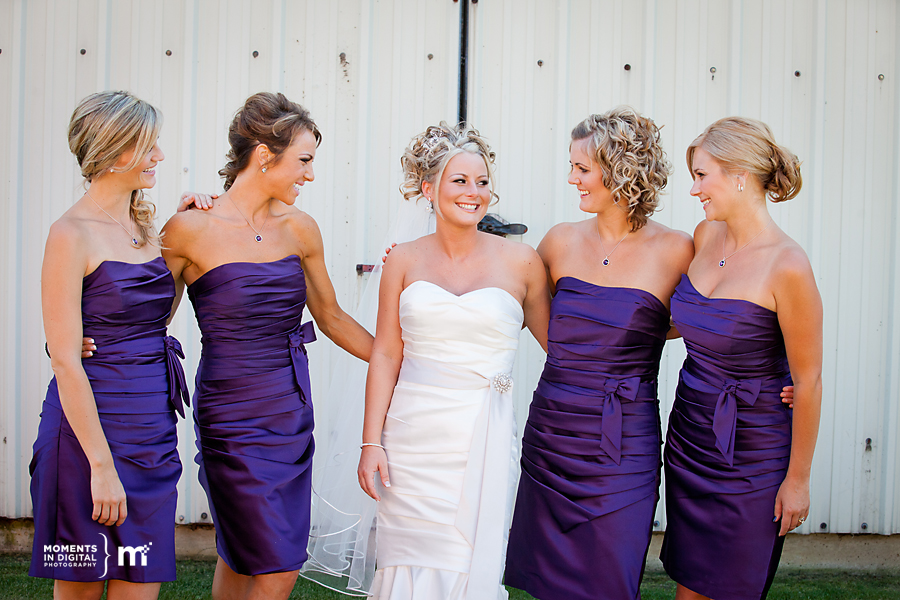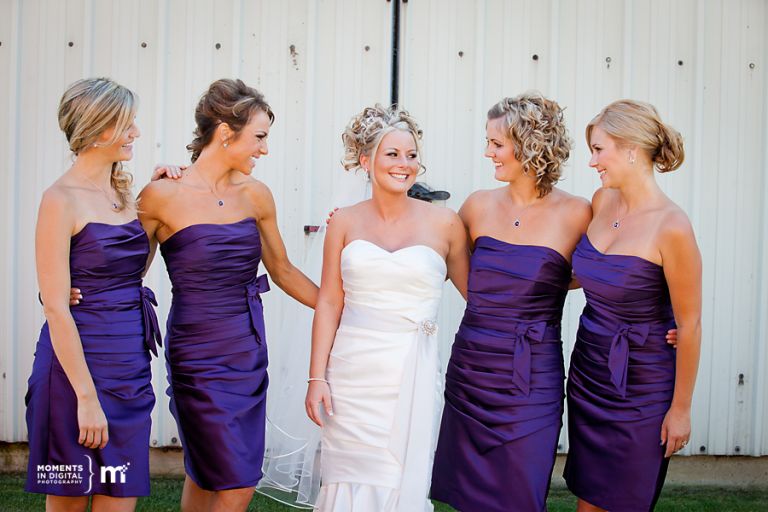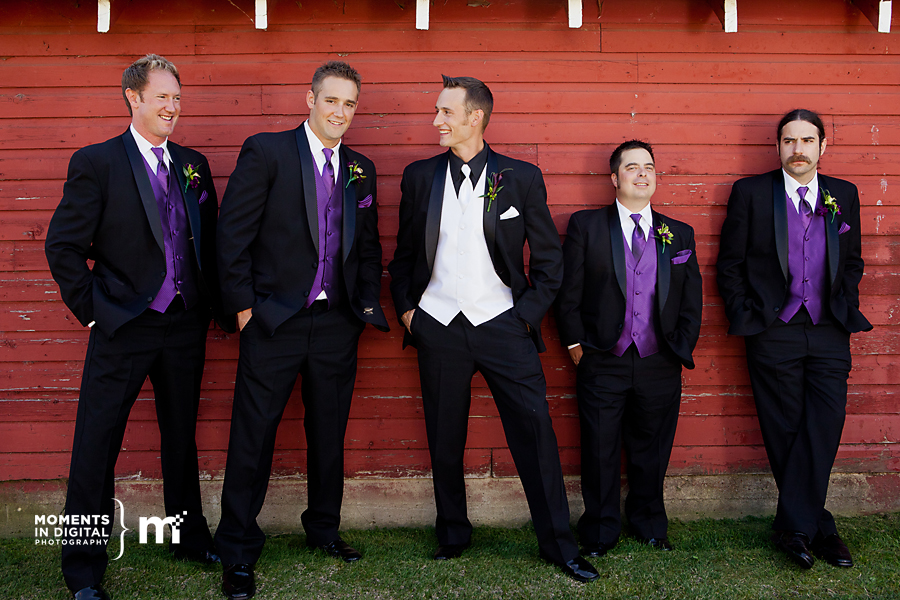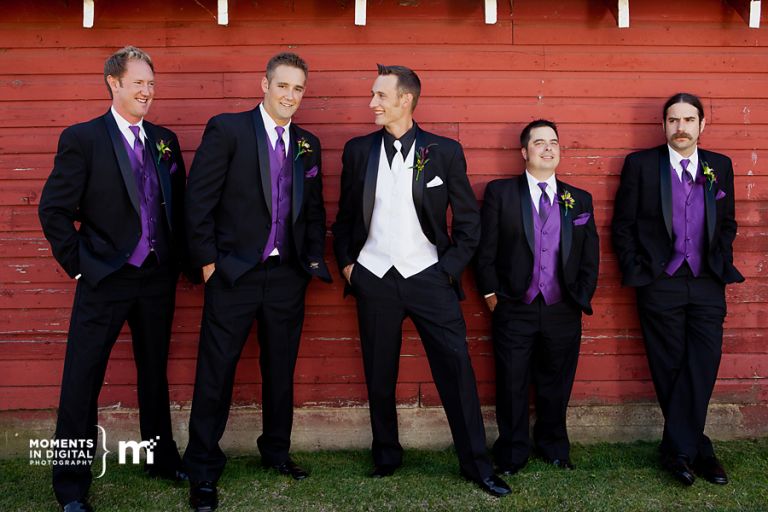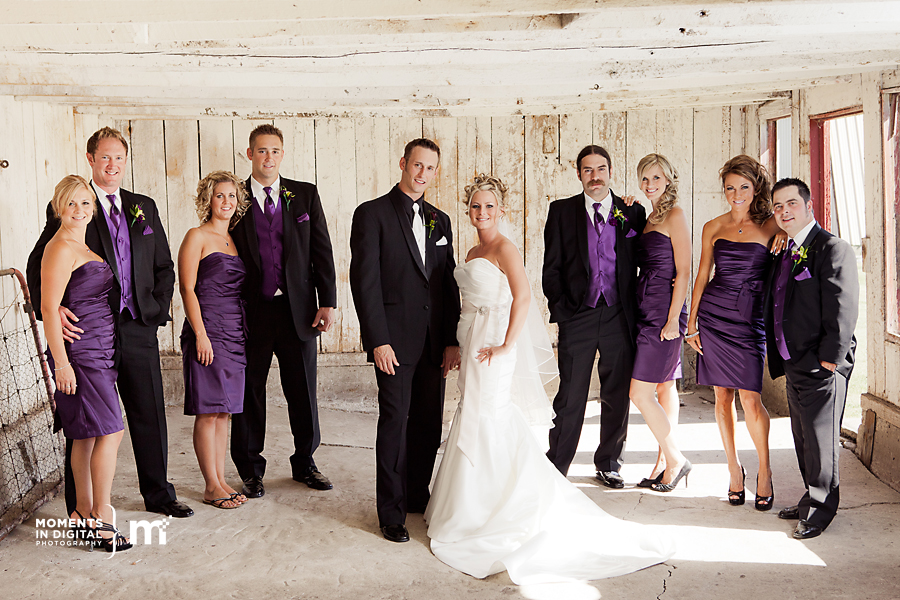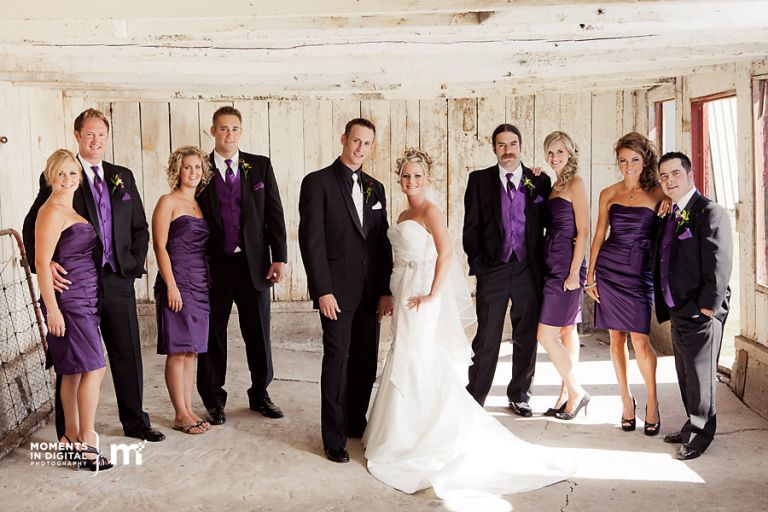 After we were done photographs with the family and the wedding party, it was time to photograph Sherena + Clay. We found a bunch of great locations at this farm and could have spent hours photographing them but we had to get them to the golf course on time to get them married. Here are a few of our favorites from the farm.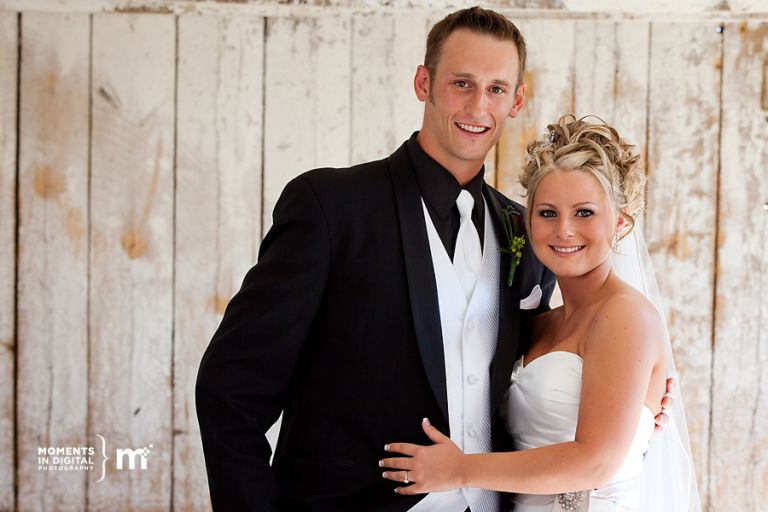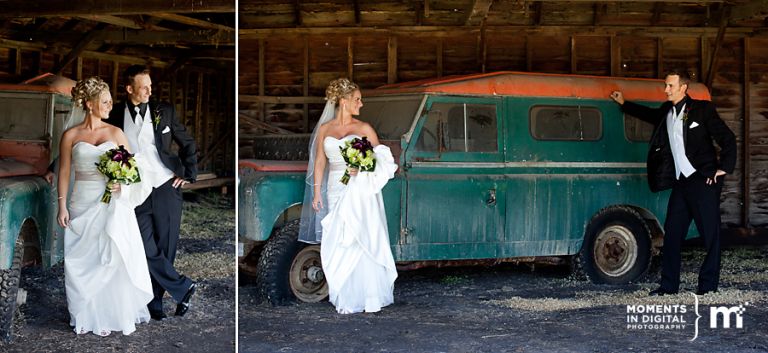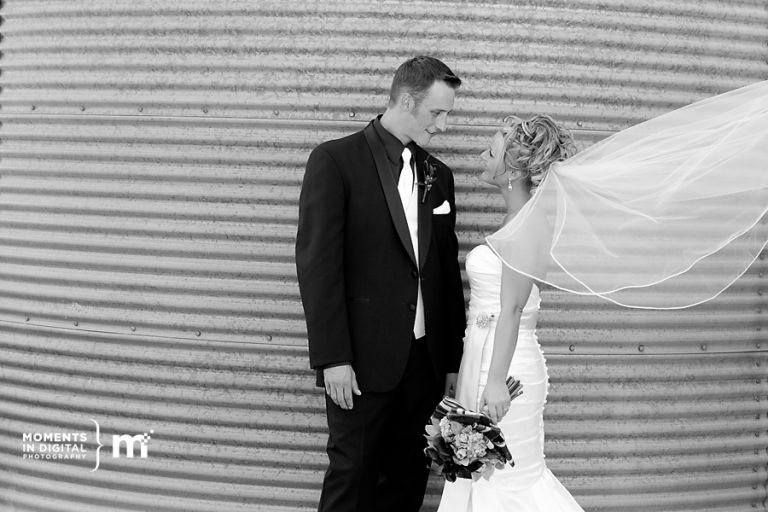 After our photo session at the farm, it was off to Red Tail Landing for the ceremony and reception. We were excited to work with the team from Jennifer Bergman Weddings who helped plan and organize the details for the day including some fabulous decor and beautiful reception details. Local singer Erica Viegas supplied the music for the ceremony and cocktail reception that followed. Sherena & Clay also had the cutest flower girl and ring bearers who did a great job.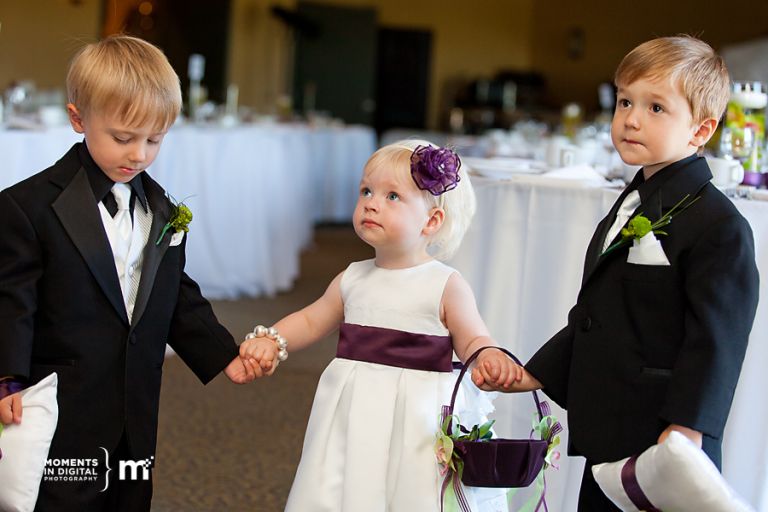 Their ceremony was beautiful and Sherena was glowing as she was walked down the aisle accompanied by her mom and dad.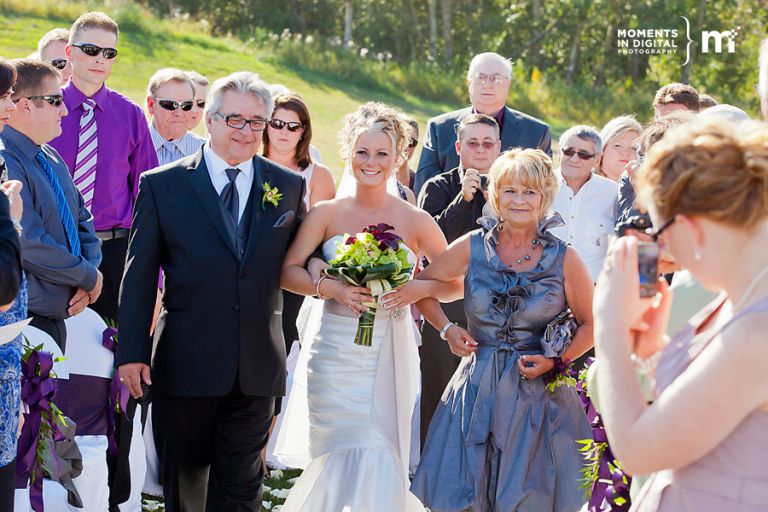 After the ceremony, we stole Sherena and Clay away for a few more minutes to take advantage of the beautiful late afternoon light before their reception started.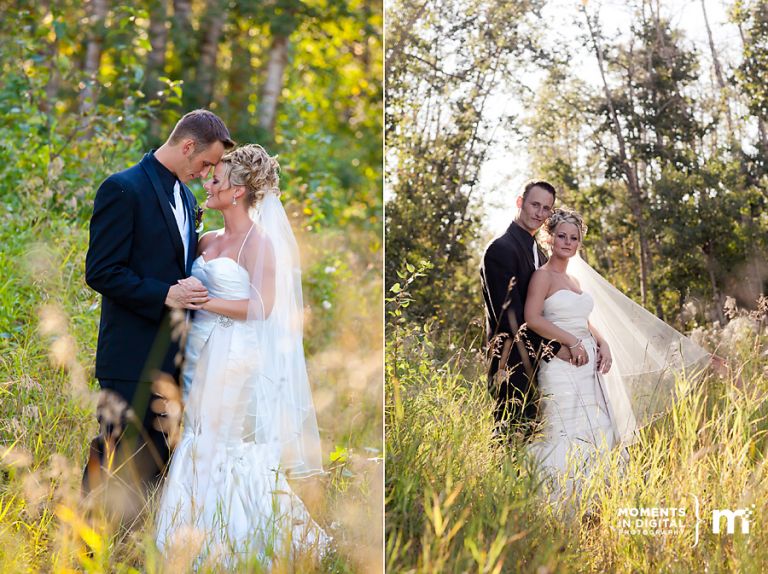 We hope you enjoy your sneak peek guys! Enjoy your honeymoon and we can't wait to share the rest of the photos with you once you get back.